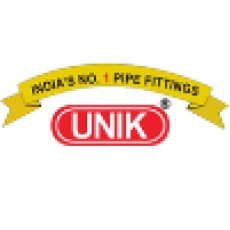 UNIK
"Unique Pipe Fitting Company" is one the leading manufacturers of Malleable Iron Galvanized Pipe Fittings in India. Our modern factory is equipped with upto date plant, machinery and inspection equipment, skilled craftsmanship, plus rigid inspection throughout all stages of manufacturing ensures the high standard of accuracy now associated with all "UNIK" Pipe Fittings. Our partners are large scale stockist, Distributors all over India. We are striving to be an efficient and reliable partners to our customers. It is our aim to continuously upgrade our Production technique in order to offer our Stockist/ Distributors and consumers an excellence quality at reasonable price.
Greater attention is therefore paid to ensure that no breakage or leakage occurs anywhere in service, Each fitting is subjected to a multi stage inspection which ensures accuracy and durability of the fittings in all types of industrial, installation. Our registered trade mark "UNIK" appears on all our fittings.
Brand Pipe Fittings enjoy a great reputation for its quality and durability all over India and abroad. It can be found on piping systems throughout India and this popularity is due to the Company's reputation for producing consistent high quality products combined with a nation wide distribution system.
Brand Pipe Fittings are manufactured keeping in mind the fact that they are often used on underground and concealed piping installations and the fault, therefore, cannot easily be defected and rectified.
​ #BBD0E0 »
---